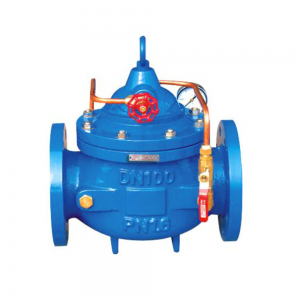 300X SLOW CLOSING CHECK VALVE
Description
Product characteristics
The check valve is composed of main valve and external control valve. There are two water chambers in the main valve, and the diaphragm water chamber is a pressure regulating chamber. When the water pump stops working, due to the self weight of the valve disc, the force of the main valve spring and the pressure difference force between the upper chamber and the lower chamber (when the water pump stops working, the pressure in the lower chamber decreases rapidly, but the pressure in the upper chamber decreases relatively slowly), the valve plate is closed 90% quickly, and the remaining 10% is transmitted to the upper chamber by the guide pipe. With the increase of the pressure in the upper chamber, the valve flap is picked up to close the closure port The remaining 10% of the opening plays a role of slowing down noise and reducing water hammer.
1. It should be installed horizontally
2. Before installation, the sundries inside the pipe network shall be cleaned to ensure the flexible movement of the valve core
3. The stop valve with corresponding diameter shall be installed at the position where the water source can be cut off when the check valve can be maintained
4. The check valve shall be kept clean inside before and during the commissioning of pipe network, and shall not enter into sundries due to improper construction
5. Commissioning: when the valve leaves the factory, the needle valve and the ball valve are all closed. Use the clockwise valve to rotate 2 and a half circles anticlockwise, and the ball valve is fully open. If water hammer is found, the small ball valve can be slightly closed, and the injection valve can be slightly opened anticlockwise to eliminate the water hammer.
Table of main dimensions